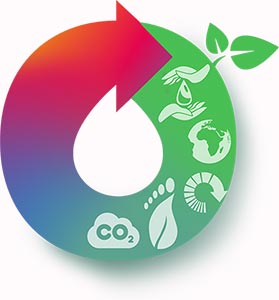 Low carbon footprint manufacture
Concern for the environment and promoting a broader sustainability agenda are integral to Photocentric's activities. We aim to follow and to promote good sustainability practice and, wherever possible, will help our customers and partners to do the same.
Throughout our operations we look to minimise our environmental impact by reducing our emissions and waste and using water sustainably. Wherever we are in the manufacturing process our priorities are safety, quality, and consideration for the environment. The sustainability of a product goes hand in hand with the safety of those who produce it, those who use it and the surrounding environment.
Across all our operations, Photocentric carefully monitors all of the chemicals used in its production processes, guaranteeing controlled and responsible use, compliant with the legislation of the various markets and in line with the best industry practices. 

We believe that sustainability can go hand-in-hand with improved performance and creating better products. We passionately believe that it is possible to create better quality products that are also better for the environment.
Find out how we are addressing the challenges of sustainability in our businesses below.