From the inventors of LCD 3D Printing, the Photocentric LC Opus delivers fast, highly accurate prints, suitable for a huge variety of industries and applications. As the name suggests, LC Opus enables you to create works of art right from the start!
A simple and versatile solution
Equally at home, in a dental laboratory or engineering workshop, its intuitive and simple operation makes LC Opus perfect for beginners and experienced users alike. Unlike our other range of 3D printers, LC Opus is a UV open-source 3D Printer allowing freedom of material choice.
Consistent performance when you need it most
With its rugged construction the LC Opus has been designed to provide reliable and repeatable performance time and time again.
Start printing in minutes
Delivered pre-calibrated, LC Opus is ready to print straight out of the box. With simplified homing and a newly developed vat with assisted cleaning mode, LC Opus is your trusted production partner.
Stay ahead of the competition
The speed and reliability of the LC Opus, combined with its low running costs ensure you will be leading the way where it matters.
Incredibly fast cure speed of 2 seconds per layer* at 50µm layer thickness enabling large volumes of parts to be printed quickly, accurately and consistently.
With an impressive build volume of 310 x 174 x 220mm and Photocentric's patented Peel Release 'Vat-Lift' technology large surface areas can be printed reliably and with ease.
Meticulous attention to detail and the selection of precision engineered mechanical components deliever outstanding performance.


Large


Small


Large


Small


Small


Very Fast


Very Slow


Slow


Slow


Very Slow


Good


Good


Good


Low


High


High


High


High


Low


High


High


High


High
1. CAD files are loaded into Photocentric Studio and prepared for printing with a few clicks. 
2. Simple 3D printer set up to convert files into physical models layer by layer.
3. Printed parts are washed removing excess resin.
4. Parts are cured and ready for use.
Dedicated UV Materials for your LC Opus
Make the most out of your LC Opus with our own unique range of dedicated UV 3D printer materials. Designed specifically for the LC Opus, these materials enable a wide range of versatile 3D applications to be delivered at speed.
Perfect partners for your 3D printer
Our specialised wash and cure process delivers optimised properties maintaining accuracy and consistency, achieving the best finish for your LC Opus printed parts. Designed specifically with the needs of the LC Opus in mind, the machines ensure efficiency throughout.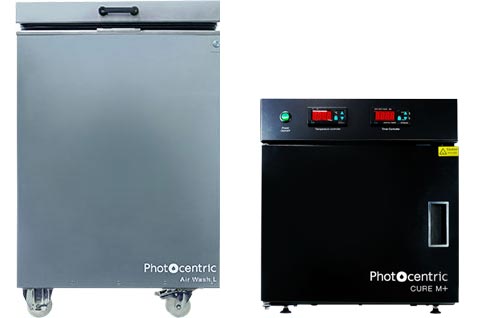 Whether prototyping or production LC Opus is the perfect solution for bringing your product to market
Whether prototyping or production LC Opus is the perfect solution for bringing your product to market
Dental Models
(22 per platform)
Layer Thickness- 50μm
(Over 95% of scanned data within +/- 100µm)
Print Time- 1hrs 57 minutes
Weight- 342g (Full platform)
Material- Dental Model Grey
Dental Models With Removable Die
(11 models)
Layer Thickness- 50μm
(Over 95% of scanned data within +/- 100µm)
Print Time- 3hrs 25 minutes
Weight- 231g (Full platform)
Material- Dental Model Beige
Turbine
(1:1 ratio internal compressor turbine )
Layer Thickness- 50μm
(Over 95% of scanned data within +/- 100µm)
Print Time- 19 hrs
Weight- 281g
Material- DLP High Tensile Grey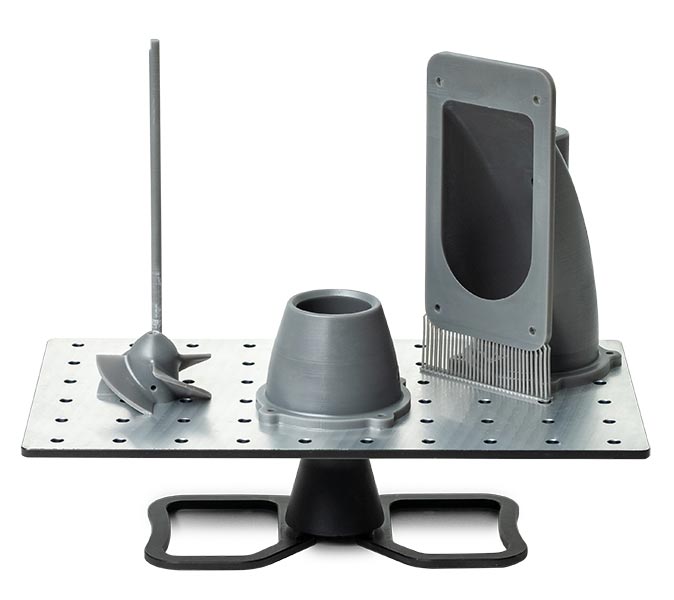 Hairdryer
(1:1 ratio)
Layer Thickness- 50μm
(Over 95% of scanned data within +/- 100µm)
Print Time- 19 hours
Weight- 186g
Material- DLP Hard Black