With manufacturing sites in Peterborough, UK and Phoenix, USA, we are the largest manufacturer of custom clear stamps in Europe and North America. We deliver to all destinations worldwide.
Our core expertise is manufacturing photopolymer, packaging it in sachets and using this to make beautiful clear stamps. Our high quality clear photopolymer stamps are manufactured using our award winning patented clear photopolymer called imagepac.
Automated Stamp Manufacture 
We have invested in state of the art stamp manufacturing machinery to achieve the highest level of quality and reliability for our customers. Our latest machine, Costa II is our automatic stamp processing machine. It's a massive in-line processor for A3 sized, clear imagepac sachets, all carrying your custom stamp designs inside. All the sections of the machine have been designed by us to achieve optimum stamp performance in a controlled environment ensuring you get the highest quality possible everytime. Costa II is the only automated stamp producing line in the world and is operational in both of our facilities.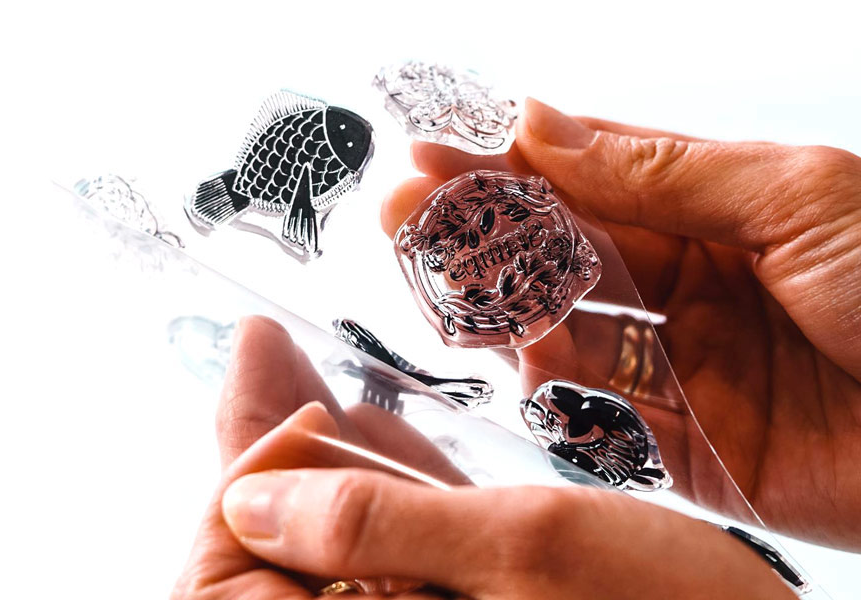 Advantages of our clear stamps
Order from low quantities to 1,000´s of sheets. Samples also available.
High clarity, shiny stamps that resists yellowing. Transparent for easy inking and positioning of your stamped image.
We reclaim, process and reuse 99% of our unexposed resin to keep your carbon footprint minimal. Our packaging is also recyclable!
10-15 working days for main orders. Samples within 2-4 days.
Designed to work excellently with all water based inks which account for over 90% of all stamp ink use.
Our stamps are tough and can be stretched and will relax back to their original shape.
Our stamps peel off individually from the sheet making them easy to mount onto an acrylic block for stamping.
Our stamps have been tested to a million impressions so they will last for a very long time!
We make stamps in what we consider is the optimised thickness, 3.2mm (.125"). This gives the stamp deep plate relief whilst still holding all the fine detail required.
We take your designs, which are carefully checked and processed by our dedicated in-house Artwork Team, and use them to create negatives. All our stamps are made using our patented imagepac photopolymer sachets. We use UV light exposure and negatives to produce each individual stamp instead of expensive moulds. Not only does this mean we don't charge mould fees, we are also able to achieve a higher level of detail with faster production times than other manufacturers. Our team are craft industry experts and are here to help bring your designs to life.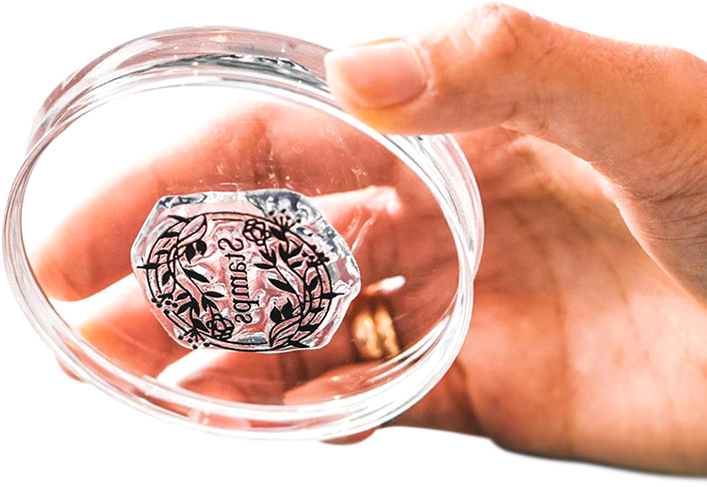 The largest size we produce is A4 / 8" x 12", going down through the 'A' sizes to the smallest which is A8 / 2" x 3". We do however try to be flexible, and if you require a size which isn't already available, please send us an enquiry and we'll do our best to see if we can accommodate your needs.
As a standard, all our stamp sets are packed with a clear protective acetate sheet backing. A separate acetate sheet printed with your stamp design is applied on top, then inserted into a sealed clear bag with a hanging slot. We also offer packaging which includes an insert backing card – these are printed double-sided in full colour to really make your product stand out from the crowd!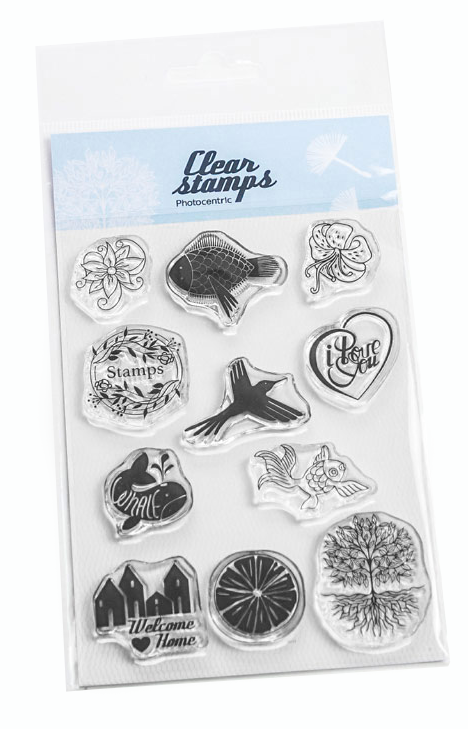 Fill out the enquiry form below and a member of our dedicated craft team will be in touch to discuss your requirements shortly.
Once registered on our secure online ordering system, a member of our dedicated craft team will contact you with all of the information you need to get started.
Use our comprehensive range of online support to get your design files ready, then send to our in-house artwork team for processing.
Once you have approved your designs, you'll be able to log into your account and place your order.