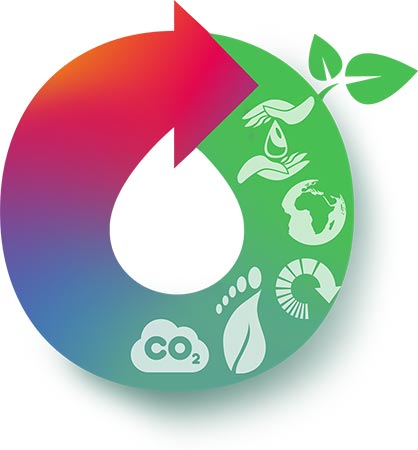 Sustainability and beyond
Photocentric has a radical environmental strategic vision, to enable the mass manufacture of thermoset plastics via low energy use LCD 3D printers.
To do this we will deliver the following:
Creation of thermosets from bio waste streams and sustainable sources
Delivery of low carbon footprint autonomous mass manufacturing process using novel LCD printers
End of life recovery of useful energy form thermosets
We are looking to develop a range of sustainable resins specifically for 3D printing. We are undertaking ongoing development work on the use of sustainable and biodegradable resins. We have a project to react polyols using bio-waste as the source.
LCD 3D printing is already the lowest carbon form of 3D printing. We are now developing the next range of screens using monochrome displays that let three times the amount of light through as colour ones. By using centrifuging instead of washing and selective area illumination in an autonomous process we can deliver even lower carbon footprint manufacturing methods.
Our environmental vision for the business
We have constructed a brand-new 66,000 sqft net zero building as the research and innovation facility where we will enable others to benefit from low carbon manufacturing using sustainable materials and highly efficient 3D printers of the future.
We will soon be able to offer a carbon footprint with every part we make. By installing PV and having low energy demand processes we can make products during the day, 7 days a week from the energy we take from the sun.
We source all our materials locally and create printers and resins ourselves. By manufacturing everything from the building blocks upwards we reduce transportation carbon and insulate ourselves, and our customers, from supply chain risk from buying from Asia.
We are committed to delivering our green agenda across all departments in everything we manufacture, both in the UK and the US.
Improving wastewater recycling
We are looking at methods to recycle the effluent from the 3D parts.
We are undertaking research into sustainable materials in conjunction with a number of global universities and research institutions.
We are moving to low water production and centrifuging as standard in the 3D printing process. Our unique process delivers a reduction in material consumption, tooling, and chemicals necessary for the conventional injection moulding processes.
Our systems support fast on-demand production which helps to minimise waste and over-stocking.
Energy efficient materials
We are working on projects to enable the low-cost use of highly energy efficient ceramics in manufacturing across many applications from printed turbine blades to medical and automotive components.
We are undertaking significant development work on the use of biodegradable materials.
New generation of batteries
We are committed to the development of a new generation of 3D printed batteries, that will be lighter, smaller, faster charging and more powerful.