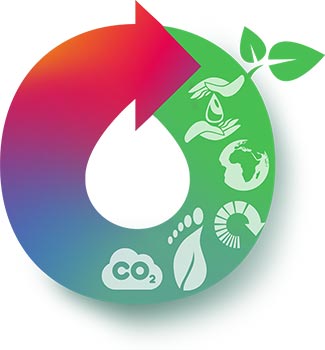 Caring for the environment
More people than ever are waking up to the reality that we need to take better care of our planet to make the world a better place for us and for generations to come. Below are some of the key ways Photocentric works to employ the most sustainable and environmentally friendly practices we can, to ensure we play our part, and give you peace of mind every time you purchase from us.

Durable product | Saving energy | Saving water | Re-using resin | Reducing waste | Lowering carbon footprint | No harmful chemicals
Our Clear Stamps are not only durable (designed for life, not single use) but are also made using the most energy efficient processes possible. Recent investments in new technology means that we are now saving even more water during production and reclaiming and re-using more excess photopolymer resin than ever before, putting it back into the process, and minimising waste.
Our unique process sees a reduction in material consumption, tooling, and harmful chemicals that are used in other machining processes (we don't create tools or moulds due to our exclusive UV light exposure method).
Our production of course remains in the UK, and we buy most of our ingredients from Europe. This significantly reduces our, and your, carbon footprint during the freight process.
Our Stamps are free of toxic compounds and ozone depleting chemicals, and they do not produce toxic by-products. We've always been proud to say that our Photopolymer does not contain latex, phthalates, melamine, carcinogens or toxic or harmful compounds, and instead we use biodegradable materials that are not harmful to the environment.
We look after our staff, who work at our site which is in full compliance with UK health and safety laws and ISO9001:2015 (focus on continuous improvement).
Working with the future in mind – our in-house team of chemists and engineers never stop improving and are currently working to incorporate new innovations in terms of bio-solutions into our development.
If you have any questions about our products or processes, don't hesitate to get in touch!