High volume aligner model production
The clear aligner and retainer market has grown rapidly within the field of orthodontics since the 90s, and Photocentric are helping dental labs to adapt to the opportunity and keep pace with the growing popularity.
As the requirement in clear aligners increases, companies have been searching for a solution to cope with the demand, and no matter whether they are just starting to manufacture clear aligners or developing new lines, Photocentric have helped to offer a solution that assists all, enabling customers to ramp up requirements and quickly scale their offering with the LC Magna and LC Opus machines.
Clear aligner production process
Patient dental anatomy is collected either using an intraoral scanner, or by scanning a physical model or impression via a desktop scanner.
The data is then imported into the CAD software, the teeth movements can then be virtually manoeuvred and planned. Aligner models are now configured
The clear aligner model data is then sent to the Photocentric printer and the parts generated.
The aligner models are now washed, dried and curated via the easy-to-use dedicated Photocentric wash and cure units.
The clear aligners are then thermoformed over the 3D printed models.
Finally, the clear aligners are checked for any rough edges, polished and are ready to be issued to the patient.
Aligner 3D printing service
Our aligner 3D printing service offers you an alternative route to market. Our automated, low-cost, high quality, large volume aligner manufacturing resource enables you to concentrate on business, whilst we produce the aligners.
We have created an efficient production process for making large volume aligners and aligner models that we can ship to you, or direct to the end consumer as you prefer.
Grow your business with us >

Photocentric are an approved 3Shape Clear Aligner Enterprise technology printer partner. The partnership ensures a seamless journey from start to finish, as the platform is fully compatible with Photocentric software and printers, producing high quality printed models consistently and efficiently.
The solution enables you to design and produce clear aligners to suit your business goals on time, every time.
Read how dental practices have benefitted from using Photocentric to further their aligner production.
K Line
Aligner manufacturer
K Line are established users of 3D printing technology, but as the demand has increased, so too has the need for a more reliable and faster process. Learn how they have incoporated LC Magna into their production line.
Bridge Dental Laboratory
Dental laboratory
Bridge Dental were experiencing a rapid growth in demand for their clear aligners. In late 2019 they purchased their first magna and began repetable mass manufacture of models.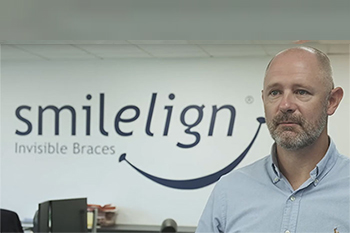 Smilelign & S4S
Aligner manufacturer
Smilelign and S4S are major players in the dental aligners in the UK. They had tried almost every manufacturer of 3D printers to meet their requirements for reliability before deciding upon Magna.