Photocentric Lead Industry 4.0 Discussion Panel with Make UK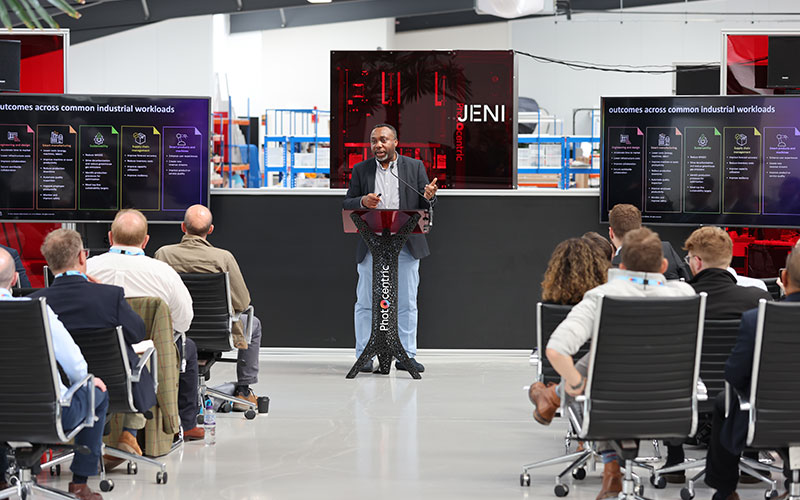 Make UK, the champions of manufacturing evolution in the UK, recently hosted one of their regular events at Photocentric's Peterborough manufacturing headquarters. The discussion was focussed on Digital Manufacturing and Automation and featured an impressive lineup of thought leaders, each offering unique insights around future manufacturing within Industry 4.0.
Attended by a diverse selection of industry leaders and innovators, the panel sessions enabled a holistic exploration of the topic. Speakers delved into various facets of digital manufacturing, highlighting its potential to revolutionise supply chains, enhance productivity, and bolster sustainability efforts.
Also discussed were advances in digital technologies, for example enabling the introduction of intelligent automation to manufacturing processes.
Photocentric's Managing Director, Paul Holt , speaking at the event from a lectern printed on the company's new Titan 3D printer, noted the power of 3D printing to radically and affordably disrupt today's industrial production with bespoke, scaleable manufacturing on a mass scale.
Discussion from the floor covered the challenges and opportunities that lie ahead in the adoption of automation, sharing real-world experiences that provided invaluable context to the evolving landscape of manufacturing.
The success of this discussion panel serves as a testament to the growing importance of digital manufacturing and automation in today's world. The event made it clear that these technologies will continue to transform industries, creating new opportunities and redefining the way we work and produce.
Thank you to Make UK for helping run the event, and to all the expert speakers and delegates who attended the event and helped make it such a resounding success. The discussions and connections formed on this day will be crucial continue exploring the frontiers of digital manufacturing and automation.