Photocentric launch Liquid Crystal Titan extremely large format LCD 3D printer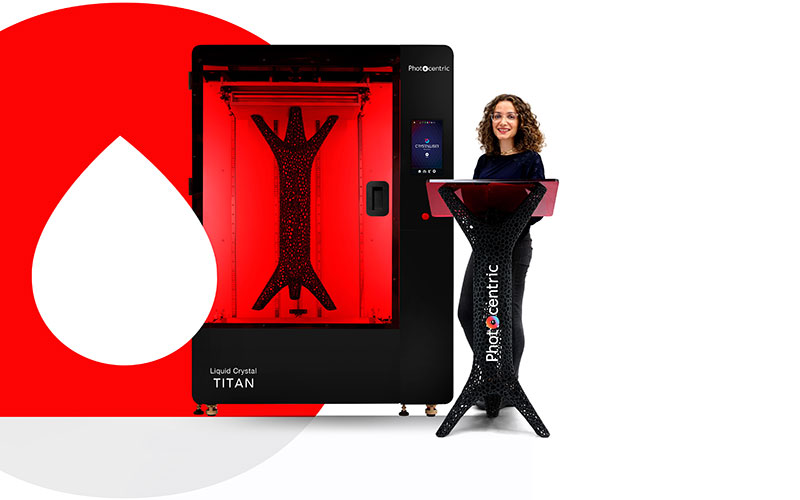 Photocentric, pioneers of LCD 3D printing, have chosen Formnext to launch the world's largest LCD printer, Liquid Crystal Titan.
Up until now, printing very large parts has been costly, slow, and problematic. Large format 3D printers, their software, maintenance, and consumables are extremely expensive, and the finish can still be rough requiring a lot of post-processing.
Titan's build volume of 695 x 385 x 1200 mm (27.3 x 15.2 x 47.2″) is more remarkable in that it has a pixel pitch of just 91 microns across the entire area, delivering phenomenal final part resolution. Because it uses LCD, it hardens a large area simultaneously. The 8k (7660 x 4320 pixels) screen provides control of over 33 million pixels, allowing the user to convert huge amounts of liquid into solid in a short time. This makes it an order of magnitude more capacious than any other large format SLA system.
We Intend to change the way large parts are made. Marketing it with the intriguing line 'it's all about the price tag', we are providing a transparent costing model to encourage wider applications for large format printing.
Titan is a very different proposition to existing large format resin printers
It uses free radical, not cationic curing resin, and by overcoming shrinkage it enables much faster polymerisation, providing a wider range of properties, including elastomeric and delivers end use functional parts.
It hardens with daylight rather than UV, which cures more consistently across a large surface area delivering more controlled double bond conversion.
It prints bottom-up, rather than top-down, which means there is no very expensive vat of resin, faster resin changeover, the parts and platform drip dry during printing and the platform is easily transferable to the wash section.
It uses new user interface software, an upgraded version of the free software Photocentric Studio, a new printing process Weave that reliably prints even very large parts accurately, Core surface texturing and Voxel Dance support and part processing software.
It prints highly cost-effectively, which is providing a total cost of ownership for the entire process, not just the weight of the resin, to evaluate the real cost of making large parts.
It provides a complete manufacturing ecosystem, which means, a variety of resins, software, wash, cure and transfer units, resin recycling, lifecycle Carbon part analysis, together with a complete maintenance and customer service package.
It is supplied with a with range of resins, including a value resin making cost effective parts at 350 micron layers.
3D Printed running man on Liquid Crystal Titan