Photocentric Pushing the Limits of Large Format 3D Printing at Rapid + TCT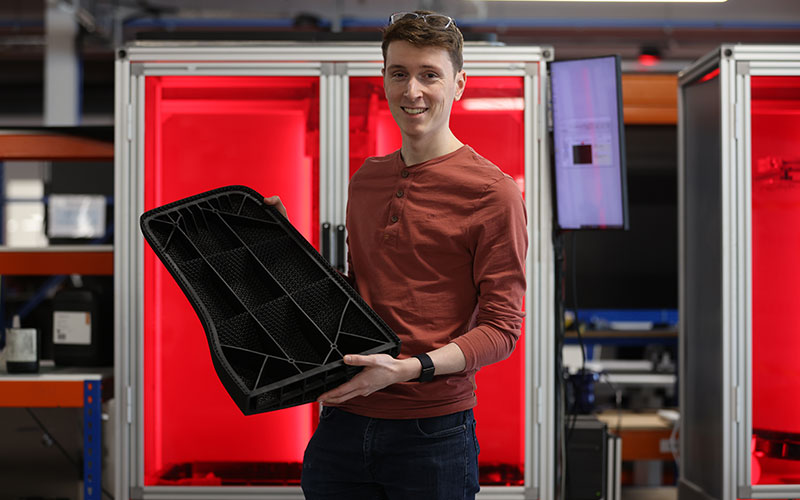 3D printer, photopolymer and production parts manufacturer, Photocentric will be exhibiting at North America's largest and most influential Additive Manufacturing event, RAPID + TCT, offering manufacturers and end users affordable, scalable and industrial 3D printing technologies.
BASF ForwardAM and Photocentric have been working in close collaboration with a Tier 1 automotive manufacturer to optimise the DfAM and printing of very large parts. Together, they eliminated warping and benefited from the multiple advantages that 3D printing brings such as no expensive tooling, integration of multiple parts into single parts, flexibility in the supply chain and speed to market. One of the biggest benefits was the freedom to switch between Injection Moulding and Additive Manufacturing according to the stage of the product life cycle. 
Photocentric parts on demand will be featuring a propriety door panel manufactured in the largest and most accurate LCD-based 3D printer in the world, Liquid Crystal Titan. This specialist part showcases the intricacies of lattice design, incredible textured surface finish and the triumph of tool-free iterative processes for a massive build volume of 27.3 x 15.2 x 47.2". LC Titan is currently running production parts and will be available for purchase in Q4 2023.   
The Photocentric 3D printing ecosystem 
On display at booth #1715, there will be the reliable Photocentric workhorse Liquid Crystal Magna and opensource Liquid Crystal Opus 3D printers, both tried and tested for multiple applications as the print exhibits in dental, model making, automotive, medical and engineering industries will show. Complementing the printers, there will be an ample selection of UV and daylight durable, flexible and rigid resins alongside the co-developed BASF Forward AM Ultracur3D EPD Daylight product line.  
In 2002 Photocentric commercialised a patent for a pre-packaging photopolymer to enable stamp making in small flexographic printing plates. Since then, they have been at the cutting edge of innovation in resins. In 2015, a patent for 3D printing using daylight polymers and LCD screens followed. Nowadays, Photocentric is running production parts on demand and, having control over the complete ecosystem, allows optimisation of every aspect of the additive process; from resin formulation to printer settings to part properties to product finish.     
"We experience the results first-hand; we gain immediate feedback from our printed parts and adjust any part of the printing process accordingly. This is extremely advantageous for our customers and a rare position to be in" says Paul Holt, founder of Photocentric." Our vision is to create automated 3D printing systems and transform the future of mass manufacturing."   
"We are thrilled to be back at RAPID+TCT and very excited to be meeting with many old and new friends" says Ian Mason, VP of Sales at Photocentric INC. "This will be a great opportunity to share the latest innovations of Photocentric technology." 
RAPID+TCT attendees in the Consumer-goods industry interested in mass manufacture will be in for a treat. As part of the RAPID+TCT Conference, Merit3D's Spencer Loveless and Photocentric's Sally Tipping will be talking about how to scale up production from 50 to 1,000,000 parts exploring the advantages of Additive Manufacturing vs. Injection Molding, understanding how 3D printing can bring cost-effective customization and realizing the impact of reshoring on the environment and the local economy. The talk is on Thursday, the 4th of May at 10.30 am CT. 
You can find the Photocentric team at RAPID+TCT 2023 at booth #1715 in the West building Chicago's McCormick Place, May 2 – 4.