Creating the Largest Quantity of a Single PPE Item by 3D Printing Ever Made
Mass Manufacture- supplying 7.7 million face shields to the NHS.

How- We do area others do dots. Screens are the answer to scale.

Why- 3D printing creates instant product. Our shield is customisable, the angled face visor provides space at the front and close protection at the sides.

close
Growing plastic with daylight- the difference screens make.
The Creation of Magna Printer Farm
To fulfil our NHS contract, we have designed and installed a purpose-built factory to make face shields.

Currently housing 38 Magna printers, operating 24/7, we are making over 30,000 3D printed components every day.

We are scaling this farm up and will create over 500,000 items a week.

Millions of face shields today- what do you want to make tomorrow?

close
The changes and developments to enable the manufacture of 7.7 million face shields
Factors that enabled this to happen
Unique position, Patented technology.
When we started in 3D printing 6 years ago, we had the vision that uniquely screens could enable custom mass manufacture.
Today, we have made that dream a reality, responding in volume at the time of need.
Unique Daylight Technology
Patented Daylight system- partnering chemistry and screen perfectly.
Safe for screens, consistent intensity delivers exceptional final plastic properties.
Photocentric has been at the leading edge of photopolymer manufacture for more than 15 years.
We manufacture in-house, creating the building blocks of plastics making oligomers.
We created a new resin specially for face shields in just 3 weeks using our dedicated team of chemists.
Large format, high resolution, cost-effective, and long-lasting LCD screens.
Our screens run on daylight ensuring our printers last a lifetime.
Large screen areas harden large volumes of plastic, simultaneously.
UK Sourced Components, UK Grown Product.
70% of the components of Magna, the workhorse of our operation, are sourced in the UK.
Obtaining components locally means we can iterate the design effortlessly, introducing improvements seamlessly.
Scaling manufacture can be achieved rapidly.
High quality reliable products with secure supply chains.
Day by day our print farm is changing with lots of incremental improvements to increase output and reduce waste. This is our optimisation journey: 
Progress of NHS contract (Shields manufactured)

9.7%

9.7%
Face Shields Manufactured
18th May 2020
Clearing one of our warehouses, preparing it for a transformation. Designing utilities, production layout and material flow.
21st May 2020
Increasing capacity on the Magna production line. 3 printers a day are being built and wheeled next door to be used immediately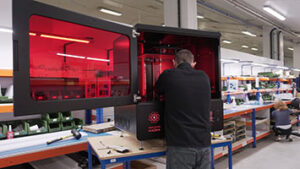 25th May 2020
Water, lighting, extraction, compressed air and drainage are installed.
26th May 2020
In just 2 weeks software is written in house to control the new full farm of printers. 12 more Magna printers were operational this week
30th May 2020
First shipment of face shields depatched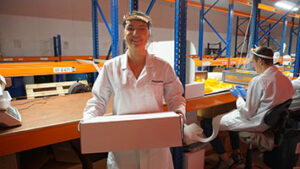 1st June 2020
Pilot manufacturing line in technical area shutdown and production transferred to new facility. Further 14 Magna printers added to farm
2nd June 2020
Packing operation, Kanban and SOPs written
3rd June 2020
Increase number of parts on platform from 110 to 210 by optimised design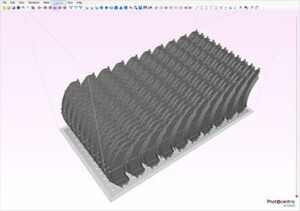 4th June 2020
New formulation optimised for face shields developed by chemists in record time. Improves green strength, print speed and post processing time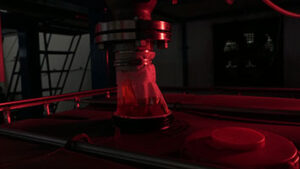 6th June 2020
We write QR code software in just 3 weeks that tracks the raw materials through to each platform. Scanners installed to track each stage of the process
8th June 2020
26 turns to 34 with 8 new Magna printers manufactured in-house and installed in the farm.
10th June 2020
QR system trialed in first live production run with bulldog clips to identify each platform
11th June 2020
Conveyorised flow installed to transfer face shields through process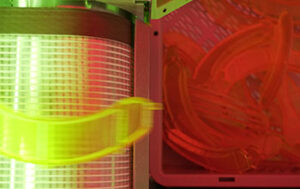 12th June 2020
LCD screens (of course!) installed to show packers flow of parts through system. Box chutes added to transfer boxes to other side for final QC and packing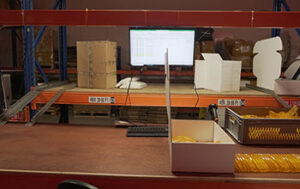 15th June 2020
Post processing capacity increased by installing higher intensity lights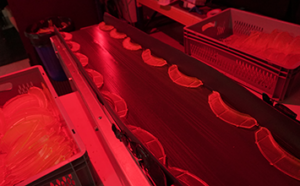 18th June 2020
First time we run flat out and hit a record of 61,300 face shields in a day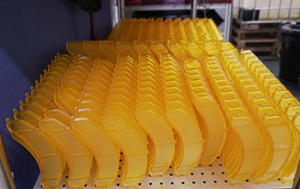 Liquid Crystal Magna prints a full bed of 210 face shield separators in 3 hours.
Printed in Magna Translucent in 350my layer thickness.
452 layers at 12 secs per layer: Exposure 4 secs + Movement 1 secs + Dwell 7 secs (plus base layers).
15.8cm (6 ¼ ") printed z-height in 110 mins.
14g per part = 1.85kg of objects created on bed.
Number printed per day = 1680 (24 hrs)
Liquid Crystal Magna creating functional custom parts at 17.5g every minute.
Got the prints and they work very well. They fit neatly into one another and they also form an airtight seal with the mask. The service was fast and the product was just as we expected, responses from you guys was fast and answered my questions before the order went in and your price was very competitive. 
Download files
for manufacture
Community Response
Explore
LC Magna - A Global Effort
Magna printers are currently operating all over the world in support of these efforts.

Our collaborative relationships with our trusted partners have created a positive collective response.

Our Journey into Face Shield Mass Manufacture
Our Response to Covid-19

ondemand_video
COVID-19 - Becoming a Mass Manufacturer of Plastic for the First Time. We transformed our business to make face shields for healthcare workers.

close